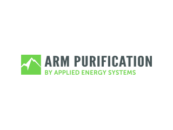 Colorado Springs, CO, 80906, United States
Tel: 719.538.5959
Advanced Research Manufacturing (ARM), Inc.
ARM, Inc. delivers point-of-use, micro-bulk, and bulk gas purifier solutions trusted by high-tech innovators to reduce or eliminate impurities from gas streams used in semiconductor, energy, medical, and manufacturing processes. Engineered with absorption, catalytic, and getter technologies and supported by expert services, ARM's purifiers and purification systems are built with the quality needed to uphold total process integrity.
Now a part of Applied Energy Systems (AES), ARM is more equipped than ever to meet customers' evolving purification requirements.