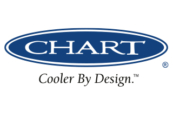 New Prague, Minnesota, 56071, United States
Tel: +1 800 400 4683
Chart Parts, Services, Repairs & Used Equipment
Chart Parts
ChartParts.com provides replacement components for products manufactured by Chart Industries and other manufacturers of cryogenic, beverage CO2 and LNG equipment. Since 2002, Chart Parts has been providing high-quality parts with customer & technical services support – so you get the right replacement parts at the right time to keep your equipment operating at peak efficiency. We leverage our OEM-approved suppliers, assuring you genuine parts at a competitive price.
Field Services
For installation, turn to the same Chart team that builds your tanks. Chart field service technicians are fully trained to handle on-site repair and maintenance requirements, and can be dispatched within a short time.
Repairs
Cryogenic tanks are repaired in four strategic locations in the United States for fast and professional service. From small liquid cylinders to large bulk tanks to semi-trailers, each of our four sites are equipped to repair all makes and models of cryogenic equipment.
Houston, TX: 1-800-231-8276
McCarran, NV: 1-800-231-8276
New Prague, MN: 1-800-231-8276
Brentwood, NH: 1-800-231-8276
Used Equipment
Your source for quality used and refurbished cryogenic storage equipment at www.chartusedtanks.com.
Business Details
Address
407 7th Street NW
New Prague, Minnesota, 56071
United States
Share