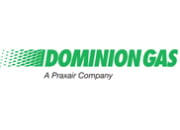 Dyce, Aberdeen, AB21 0GP, United Kingdom
Tel: +44 1224 771181
Dominion Technology Gases Ltd.
Dominion Gas is a provider of cylinder gases, chemicals, offshore tanks and associated services to the international oilfield industry.
Our company headquarters are located in Aberdeen, Scotland with overseas facilities in Gulf of Mexico, Singapore and Ghana. We have experienced significant international growth and currently service a total of 24 locations across the world.
We are market leader in our field in the UK North Sea and overseas regions, priding ourselves on client focus, reliability and quality of service, offering innovative and cost effective solutions to our customer base.
Business Details
Address
Howe Moss Avenue
Kirkhill Industrial Estate
Dyce, Aberdeen, AB21 0GP
United Kingdom
Contact
Tel: +44 1224 771181
Fax: +44 1224 770 174
Share