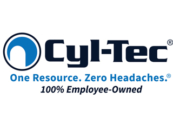 Aurora, IL, 60506, United States
Tel: Toll Free: #1 888 429 5832 / Tel: #1 630 844 8800
Cyl-Tec, Inc.
Cyl-Tec, Inc.® has come to be known as a prominent leader and innovator in the compressed gas industry who really understands and fulfills what matters most to customers – on-time delivery, reliable products, and personal service.
This family-owned business began in 1991 as a gas filling/retesting facility and quickly grew into an international supplier of high-quality gas cylinders and bulk tanks.
Cyl-Tec's line of products range from high pressure cylinders and beverage CO2 carbonation systems to heavy-duty industrial bulk stations, including remote telemetric technology for accessible, up-to-the-minute tank monitoring.
Cyl-Tec's products and services include:
UN & DOT high pressure gas cylinders
Acetylene cylinders
Cryogenic bulk tanks & liquid cylinders
Cylinder Filling Technology
Fully installed and assembled cradles and pallet manifolds
High pressure aluminum cylinders
CO2 beverage systems
Cryogenic vessel repair
Painting services
Valves & accessories
Remote monitoring/telemetry solutions (CylConnect®)
No project is too small or too big. Whether you need just one piece or a fully customized system, Cyl-Tec can meet the needs and demands of your operation, as well as your deadlines. Cyl-Tec's team of industry experts, engineers, production technicians, and sales team – plus our exceptional delivery service and customer support – are truly unmatched in the industry.
Every Cyl-Tec customer who has experienced our personal dedication and service know that we truly fulfill our company's motto: One Resource. Zero Headaches.®
Contact us today at [email protected]